UK to Celebrate 2 Million NHS and 999 Heroes
The UK comes together on Saturday 9th September to celebrate Emergency Services Day, also known as 999 Day.
Emergency Services Day is a national day and is an opportunity for the country to show its support for the 2 million people who work and volunteer across the NHS, police, fire, ambulance and search and rescue services, including 250,000 first responders.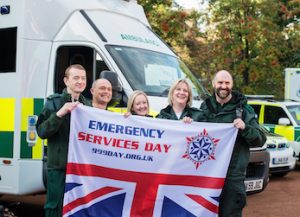 999 Day is aimed at promoting efficiency and educating the public about using the services responsibly; it aims to promote emergency services charities; and to highlight the many different career and volunteer roles in the emergency services.
Emergency Services Day is honoured to have the support of His Majesty The King; His Royal Highness The Prince of Wales; the Governments of the UK, Northern Ireland, Scotland and Wales; and all emergency services.
999 Day formally begins at 9am when 999 Day flags are raised across the country, followed by two minutes' silence to remember the more than 7,500 members of the emergency services killed in the line of duty.
Emergency Services Day was founded by policeman Tom Scholes-Fogg in 2016, after he discovered the UK lacked a national day to honour its emergency services.
Prime Minister Rishi Sunak has also given his support to Emergency Services Day.
The First Minister of Scotland, Humza Yousaf MSP, said: "Our emergency services play an absolutely vital role in helping to keep our communities safe. They put themselves in harm's way to assist others. It is also important to recognise the service's valuable preventative work, which includes helping the most vulnerable and elderly members of the community to stay safe in their own homes. It is vital that we recognise that huge contribution. Every day, they go beyond the call of duty to keep people safe and looked after.
"I want to send my very best wishes this Emergency Services Day, and thank every single member of our NHS, police, fire service, ambulance service, and other emergency services."
The First Minister of Wales, Mark Drakeford MS, said: "It is a rare and remarkable quality to be willing to put the lives of strangers before your own. To spend your time helping people in their darkest moments, supporting people when they are at their most scared and their most vulnerable. This 999 Day it is a privilege to once again take the time to celebrate and recognise the incredible work our emergency services do.
 "Diolch o galon from myself and from the entire Welsh Government to everyone involved in making our emergency services so special."
Emergency Services Day's Founder and Chief Executive, Tom Scholes-Fogg, said: "Everybody in the UK has used the NHS or emergency services at some point. In a life-or-death emergency all we have to do is dial 999 and help will arrive. We take it for granted. We just know that the NHS and emergency services will be there for us, yet it's rare we stop and think about the 2 million people who serve across the emergency services family, and the sacrifices they make – from missing their child's birthday to the ultimate sacrifice as we tragically saw just a few weeks ago, with the death in the line of duty of Sergeant Graham Saville, who in trying to save the life of another, lost his own.
"This 999 Day, I want to honour my colleagues across the emergency services – regardless of whether you're paid or are a volunteer, first responder or behind the scenes, you all play a critical role in saving lives and protecting property. Thank you for the work you do and the often thankless and unseen personal sacrifices you make. Our country is a far better place for your service."