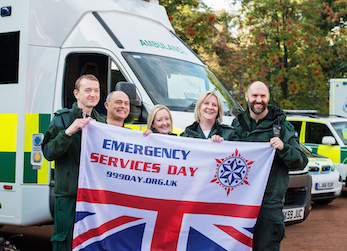 Emergency Services Day (999 Day) is a Royal and Government supported national day across the UK which takes place on 9th September each year. It is your chance to show your support for the selfless men and women who work and volunteer in the NHS and emergency services.
We encourage you to share your positive news stories about the emergency services; show your appreciation for our 999 heroes and promote your favourite 999 charities.
Emergency Services Day begins at 9am on 9th September (9th hour of the 9th day of the 9th month) with two minutes' silence to remember the more than 7,500 members of the emergency services who have been killed as a result of their duties. It is followed by the 999 Day flag being raised.
You may wish to also read out the words to the Emergency Services Prayer of Thanksgiving which can be read by clicking here.
You may find the following media and communications guidance for celebrating 999 Day 2020 helpful. Download the guidance by clicking here.
Emergency Services Day is proudly supported by the following Governments and Government Departments: